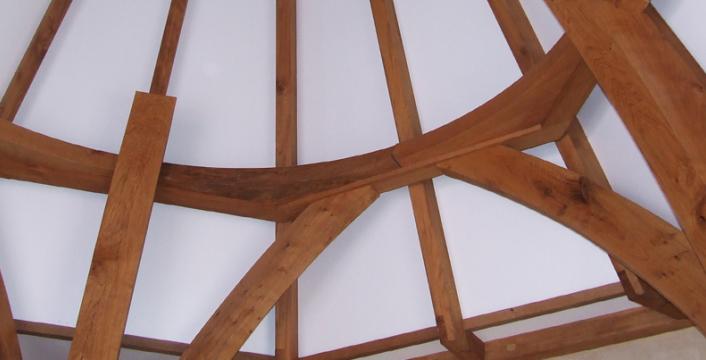 Public and commercial buildings
'Fantastic testimonial about how we helped to create his lovely wedding venues' - Simon Steel, Dodford Manor Barn.
Bruton School

We provided a simple Douglas fir frame for this nursery school building. The client, South Somerset District Council specified an affordable, modern and efficient building. This was achieved using a team approach with the client and the project's architect – Mark Orme.

Byfords Restaurant, Holt, Norfolk

This restaurant extension uses a hexagonal oak frame to support a stunning glazed copper roof. The new structure covers an old courtyard to extend the dining space and a covered walkway at this very popular delicatessen and restaurant. We received a Craftsmanship Award from the Norfolk Association of Architects for our work on this building.

Exhibition and corporate space

We designed and built the new oak frame for this wonderful mediaeval tithe barn. We are very proud that this project won the highly commended award in the structures category at the 2004 Wood Awards.

Abingdon School Boathouse

At 27.5m long, 16.8m wide and 8.6m high, the Abingdon School Boathouse is one of the largest green oak buildings to be built in over 100 years. The frame was constructed in two halves and involved an international event with 80 carpenters contributing their time, erecting one half by hand using a gin pole, rope and tackle. The frame is based on an aisled barn design and houses nearly 2 kilometres of boats as well as training and seminar rooms. The building was officially opened by Matthew Pincent OBE (Olympic rowing champion).

Health Clinic

This 'healthy' building was built with natural materials and an ecological ethos. The Douglas fir frame provides an aisled structure that confers flexibility - providing either treatment cubicles or an open space. The high level glazing provides plenty of natural light, while maintaining privacy within the clinic.